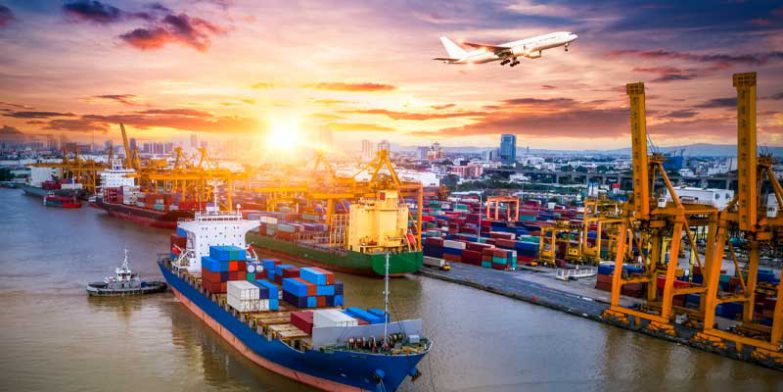 Even before Russia invaded Ukraine, there were signs of a softening of demand from European consumers starting to struggle with higher energy costs and other inflationary pressures and while freight rates seem impervious to global issues, soaring bunker prices could hasten a 'return to normal'.
The ocean freight market from Asia saw limited rate softening, but these were short-lived. With space remaining tight due to ongoing Shanghai and regional lockdowns and reduced trucking capacity at many ports, we could see cargo volumes diminish temporarily, as China battles the omicron surge.
A report by the United Nations Conference on Trade and Development (UNCTAD) warns that1.5 million containers of Asia-Europe rail cargo could be re-routed to the air and ocean markets, driving rates higher.
The war between Ukraine and Russia has disrupted land and air cargo shipments between Asia and Europe, with restrictions on Russian air space adding time and cost and leading to many service suspensions.
Ocean Freight
Low-sulphur bunker prices increased by $100 per in one 24hr period and, having soared by a third since the end of February to about $1,000 per ton, are adding millions of dollars to the cost of operating a ULCV on an Asia-North Europe round-trip.
Notwithstanding the huge profits reported by ocean carriers in the past year, the leap in fuel costs will oblige shipping lines to readjust their 2022 full-year outlooks, hitherto calculated on an average of around $500 per ton.
While some downside risks are arguably stacking up for the container lines, it is unlikely to be the end of the bull run for freight rates, but the market is extremely volatile and things can change very fast.
All signs point to continued elevated volumes and rates in the coming months, partially driven by importers pulling some demand forward in anticipation of summer delays, and a possible strike at west coast ports, in the US.
Air Freight
Lockdown restrictions in Shanghai, which were due to end on 5th April, have been extended to the whole city, with congestion rising at Pudong International Airport (PVG), leading to a backlog of cargo, rising rates and pressure on road transport.
With limited goods available to despatch, demand for air cargo capacity out of Shanghai is decreasing quickly, with carriers cancelling flights. 
Russia's invasion of Ukraine had limited effect in February, but the negative impacts impacted from March, when rising oil prices and geopolitical uncertainty began to take their toll on air cargo performance.  
Rerouted flights and climbing fuel costs have resulted in surcharges and cancellations as some services between Europe and Asia became economically unviable for carriers and while China Southern and Air China continue to traverse, at least 11 of the world's top 25 cargo airlines have made some sort of adjustment due to the war.
The zero-Covid policy in mainland China and Hong Kong continues to create supply chain disruptions as a result of flight cancellations due to labour shortages, and because many manufacturers cannot operate normally.
Air freight rates stabilised on many route and could now increase due to the ongoing space situation, with war risk surcharge on AFT being implemented and fuel surcharges still on the increase.
Overland (Road/Rail)
Cross-channel capacity continue to suffer from the fallout of P&O's controversial redundancy actions, fuel prices are spiking and driver shortages continue to be a very real concern.
P&O operates a fleet of 21 vessels across 11 ports and accounts for 30% of the  freight crossing the English Channel.
It carries half the road trailers that pass through Dover every year and with 2.1 million trucks moving through Dover in 2021, the loss of P&O capacity is having a profound impact.
With thousands of lorries heading for the Port of Dover, and tail-backs stretching 10 miles in the recent Easter holidays, drivers had to park along a 23-mile stretch of the M20 from junction 8 to junction 11, causing chaos to surrounding roads.
There are so many factors pushing road freight costs up right now and the war in Ukraine is adding to an already uncertain situation. Unfortunately, there's no end to the conflict in sight, so its knock-on effects will continue for some time. 
Increasing in popularity with shippers, particularly for high-value products, rail freight from China has grown massively since the advent of the COVID pandemic, with volumes surging 29% last year, to 1.46m teu.
While some rail freight services continue to run from Asia to Europe, on the southern corridor via Aktau – Baku – Istanbul, most major service providers have suspended services.
The displacement of such massive overland volumes will have a profound impact on air and sea modes from Asia, taking much needed capacity and putting even more pressure on pricing.
Whatever challenges this year may hold we will continue to power the supply chains of our customers, with our global network, optimised freight management and tailored technology.
Global supply chain visibility and Purchase Order management tools, that provide you with the situation oversight, consignment control and intelligence insights that build resilient, flexible supply chains.
These powerful technological tools and reporting suite are FREE for Global Forwarding customers.
Contact us now, to learn how you can benefit from these added-value solutions and enhance your supply chain.