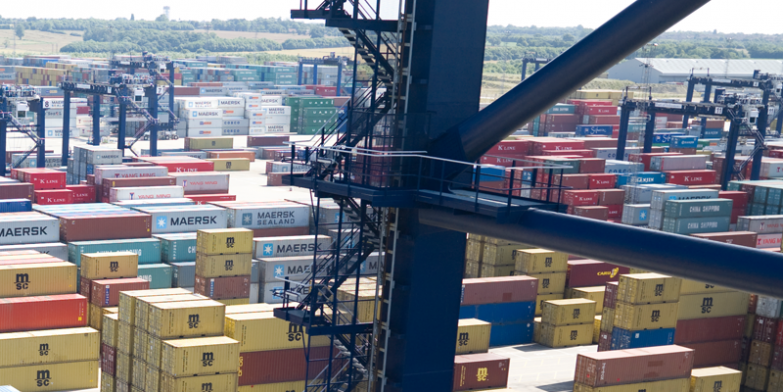 With ongoing disruption continuing at Felixstowe, Maersk and OOCL have warned customers of delays, some vessels have diverted to Southampton or London Gateway and CMA CGM is introducing a Port Congestion Surcharge.
Import volumes at Felixstowe have been 30% higher than usual in recent weeks and with port efficiency significantly diminished by the COVID crisis, disruption to vessel loading, yard operations and road/rail connections has followed, leading CMA CGM to introduce a Port Congestion Surcharge for all containers arriving/departing Felixstowe.
The port has apologised to customers for "inconvenience" and acknowledged that there is high demand for road and rail capacity, caused by a spike in import container volumes, which they say has been exacerbated by a high proportion of late vessel arrivals.
It said it was taking measures to improve service levels, which included increasing vehicle booking system availability to more than 4,300 vehicles a day. Despite the port's assurances, we know hauliers that have been unable to obtain any VBS slots and others, including some of the largest, that are obtaining less than 50% of their usual daily allocation.
Currently the backlog of haulage demand at Felixstowe is approaching two weeks, which has prompted Cosco to suspend line haulage operations across the UK, while CMA CGM diverted restitution to London Gateway before announcing its surcharge.
With merchant haulage already overstretched, the additional pressures of demand in switching to Southampton and London Gateway is likely to lead to disruption as these hubs struggle to cope with the additional volumes from Felixstowe.
We are monitoring the situation across all ports and will continue to work closely with our customers to find solutions and alternative options, as appropriate.
Following is the CMA CGM announcement:
Due to a combination of factors including:
– Significant increase in import container arrivals
- Reduced terminal productivity due to COVID safe-working practices and the deep
cleaning required at each shift changeover
- Reduced driver availability in the container sector
The operational costs have significantly increased in the terminal of Felixstowe over the past weeks.
In this respect, CMA CGM wishes to advise customers that a Port Congestion Surcharge of USD 150 per TEU (both standard and reefer containers) will be introduced for all containers arriving/departing Felixstowe.
Dates of application: October 1st (date of loading) until further notice