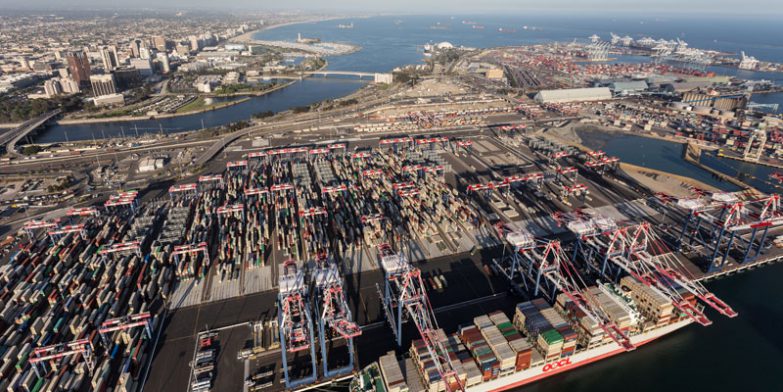 In a move to reassure shippers, the International Longshore and Warehouse Union (ILWU) has confirmed that, even though they do not expect to reach a deal before the current labour agreement expires on the 1st July, they are not planning any work stoppages or lockouts and are committed to reaching a deal with the Pacific Maritime Association (PMA).
Following a meeting with President Joe Biden during his visit to the Port of Los Angeles, the ILWU and PMA issued a joint statement, which has reassured shippers fearing supply chain disruption. "Cargo operations will continue beyond the expiration of the contract. Neither party is preparing for a strike or lockout."
Negotiations began in San Francisco on the 10th May were suspended on the 23rd May, at the request of the ILWU, and resumed again on the 1st June . While neither side commented on the reason why the talks were suspended, the JOC has reported that sources close to the negotiations said the ILWU felt no progress was being made, adding that the union seemed to be in no rush to reach an agreement before the 5pm, 1st July expiration.
Los Angeles is the largest US port and despite expectations of shippers diverting cargo to the east coast, to avoid strikes, slowdowns or lockouts, should there be a breakdown in the labour negotiations, May set a monthly record of 851,956 TEU for Asian imports, which were up 1.4% year over year and 9.3% higher than April.
The East Coast's share of US imports from Asia dropped to 33.5% in May from 35.9% in April, while the Gulf Coast's share dropped to 6.3% from 6.7%.
Canadian ports have said their terminals are full and that they will be in no position to handle any cargo diverted from the US West Coast, in the event of disruptions linked to the ILWU contract negotiations.
Global Forwarding maintain inbound and outbound traffic flows through the primary east, west and gulf ports, which means that our teams in the UK, Europe and USA can react quickly to local events, diverting in-transit cargo around possible issues, when appropriate.
We handle trucking at US ports and rail terminals, which minimises container dwell time and reduces our shippers exposure to potential disruption and additional charges resulting from port/terminal issues.
Our cloud-based systems provide real-time visibility of events and milestones, across all your international freight shipments, so you can see what's happening with your consignments, on any device, to simplify decision making, for resilient and flexible supply chains.