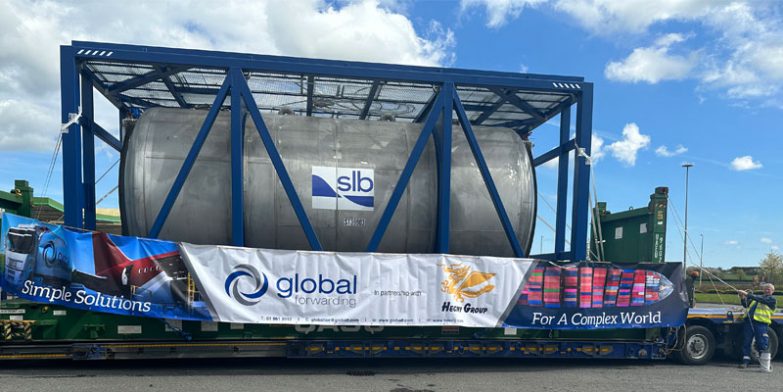 The Global Forwarding project team in Ireland arranged specialised low loader transport and permits for this out-of-gauge frame and tank, which they lashed and secured on site, ready for safe transport to the export port in Dublin, for onward shipment to Luanda Angola.
Our project team use their extensive specialist knowledge and access to the broadest range of specialised transport and equipment to safely and securely overcome the biggest project shipment and logistics challenges.
From source to site, they plan, transport and position the most demanding cargoes, overcoming the most challenging conditions, with feasibility studies and site, location and road surveys that are focused on safety, regulatory compliance and environmental protection..
The standard ISO tanktainer is 6.05m long x 2.40meters wide x 2.40m high. This giant frame and integrated tank measured 8.35m x 3.80m x 3.83m and was lashed on specialised low loader transport, for movement under permit between 00:00- 02:00, to minimise traffic impact, as the giant transporter manoeuvred to the port in Dublin, for onward shipment to Angola.
No matter the cargo, transport mode, or destination, we plan and manage project shipments end to end, from securing specially chartered equipment, vessels or transport, to loading and unloading attendance.
We handle everything from the biggest and heaviest power generators to ultra-sensitive components that require protection from the elements and the most delicate handling. EMAIL William Bashford to learn more about Global Forwarding's full project management for the most demanding cargoes and tightest deadlines.