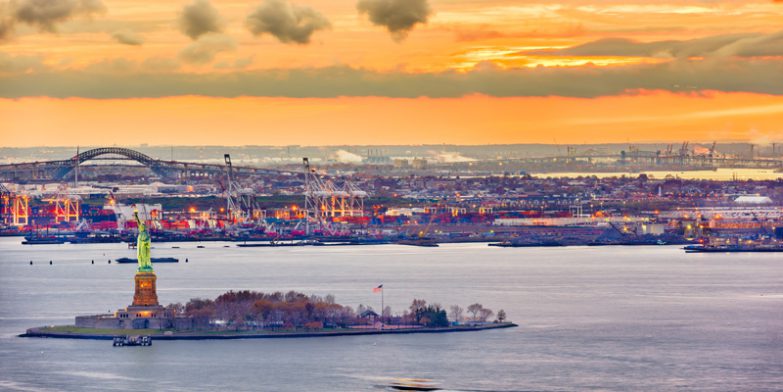 This summary of freight and supply chain developments in May, has been edited by Global Forwarding's Vice President of US operations, Adam Davies, who also provides some valuable insights, to aid decision making.
After three years of pandemic disruptions, supply chains are returning to more standard levels, with key Asian trades largely following normal seasonality after Chinese New Year.
ZIM has increased the size of its vessels to the East Coast, due to the increased volumes in that direction, utilizing ships with LNG (Liquified Natural Gas) – ten of which will be deployed in total between now and early 2024. This is partially because of the move away from the West Coast, following the protracted dock worker negotiations, but ZIM obviously feel that the volumes to the East Coast is there to support the larger vessels.
Global vessel schedule reliability is almost back to pre-pandemic levels and, with the exception of a few individual trades, rates have softened.
However, no one should expect anything to remain stable and predictable for long in any mode, because no market has a 'normal' setting and any lull is certain to be followed by a rise, which is why we recommend locking in volumes and rates, for supply chain reliability, predictability and security.
Following the transpacific GRI imposed by the shipping lines in April, container imports from China increased considerably from March, with the highest volume of transpacific imports for six months giving hope that the trend is moving to pre-pandemic levels.
Despite the end 1st quarter volume increase, the mooted freight rate increase for May has yet to come into play and while carriers cut some services in April in a bid to boost rates, there have been fewer cuts in May, with a more regular pattern of turning weekly services into biweekly services.
Ex India trade
Due to the growth in trade between India and the US, Wan Hai Lines has introduced a new service from India to Sri Lanka, to meet their weekly loop with 12 vessels into the East Coast of the USA.
Certain carriers are attempting to introduce a GRI on the India / US trade lane but this new lane introduction is putting pressure on these increases, potentially leading to these carriers backing down.
With our strong, strategic partnership in India and offices at all major hubs, we can leverage this increased volume to offer competitive pricing and a bespoke, customer oriented service. Please check with us for any requests on this trade lane and we would be happy to discuss what we can offer.
East Coast
On the East Coast, New York and New Jersey terminals that open on weekends and holidays will use those gate hours as part of their free time calculation for container storage under a tariff change that will take effect June 1.
Under current rules, terminals do not count weekends and holidays as part of free time, whether they are open or not, with the shipping lines facing a ruling from the FMC to do the same with their detention and demurrage fees.
While almost all New York-New Jersey terminals are closed on weekends and holidays, APM's decision to open its Elizabeth, N.J., terminal on Saturdays will raise demurrage concerns, as available free time will end more quickly with Saturday time taken into account.
Global Forwarding USA has a dedicated import and export department, that handle ocean, air and customs brokerage – including all related customs departments – with domestic transport for container movements, LTL and FTL.
EMAIL Adam Davies, Global Forwarding USA, Vice President.