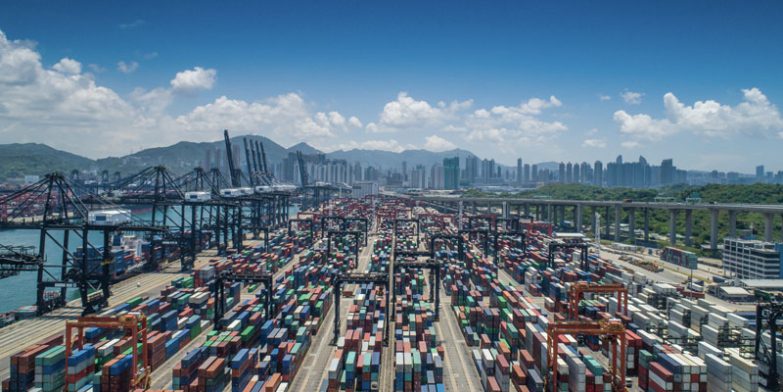 The lifting of lockdowns in Shanghai was expected to trigger massive demand for sea and air capacity, but operations at Shanghai-Pudong have returned to normal, the build-up of export containers and vessels cleared and there's been no 'bullwhip' impact.
Not helped by recent and continuing labour disputes, port congestion in Europe is still a major issue, with continuing delays to schedules and more blank sailings announced, while the equipment situation remains tight in many regions, especially for 40' high-cube equipment.
The air freight market picked up slightly after Shanghai reopened, but volumes were lower than expected and the strong cargo demand that helped airlines stay afloat during the pandemic is showing signs of softening, with cargo tonne- kilometers (CTKs) falling for the fourth consecutive month and 11.2% lower than a year ago.
OCEAN
Whilst the threat of port strikes have lessened on the US West Coast, it seems that they are popping up everywhere else. In the UK, Germany, Korea before that and Antwerp held a 24 hour strike.
Despite the deadline for reaching a new labour deal passing on the 1st July, the ILWU and PMA has reiterated that neither party is preparing for a strike or lockout and there will not be any port disruption at LA/Long Beach.
Industrial action affecting Antwerp comes as Europe's second-busiest port struggles with persistent congestion, that has for months delayed vessels and created bottlenecks across inland logistics chains.
High freight rates are caused by lack of capacity and lack of capacity is caused by vessels waiting, which is in turn caused by port congestion.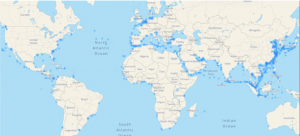 The lines injected 3.3% of capacity into the market in the first quarter, but 10.5% of capacity is still unavailable or 'absorbed' into the supply chain, due to congestion.
With cargo moving at near pre-lockdown levels and Asia ports returning to operational capability, with peak season approaching, the danger is that congestion will persist at ports around the globe.
An easing of congestion in Rotterdam, Hamburg, Le Havre, and Dunkirk meant carriers were able to deliver cargo faster to almost 70% of the main EU/UK ports last month, while 8 out of 12 ports showed an increase in cargo lead times year-on-year, that highlights the alarming drop in carrier reliability two years into the supply chain crisis.
Schedule reliability improvements in the 1st quarter have already been reversed, falling 1.3% and down 4.7% year-on- year.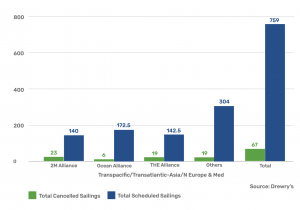 Space and equipment remain tight in key South East Asia exporting countries, with strong demand for space and direct services, as shippers are keen to avoid potential congestion and delays at transhipment ports.
Container shipping carriers are resorting to more aggressive blanking strategies to manage dips in demand on important trade lanes.
Advance bookings are necessary and we are seeing an almost continuous increase in BAF surcharges, as carriers announce emergency fuel surcharges, or increase the frequency of reviewing their bunker mechanisms.
AIR
In its recent market update the International Air Transport Association (IATA) stated that new export orders, a leading indicator of cargo demand and world trade, were shrinking in all markets except the US, but despite falling demand and rising capacity air freight rates are higher than last year and up over 130% compared to pre-pandemic levels.
As we move into Q3, we expect the air freight market to be driven mainly by the state of the global economy, ocean freight market conditions, the war in Ukraine, and future COVID-19 lockdowns.
Despite YoY demand falling by 5%, the market will remain strong through 2022 due to the gap between supply (down 12% vs 2019) and demand caused by decreases in the number of long-haul passenger flights, the end of "preighter" flights, and disruptions in the ocean transport market.
Air cargo capacity is almost back to 2019 levels on transatlantic routes as passenger demand soars, but expectations are that belly-hold capacity will start to decline, as soon as passenger numbers fall, after the summer.
Global capacity is up 20% year on year, but there are very large differences between trade lanes. The war in Ukraine and closure of Russian airspace, for example, has cut direct air freight capacity between Asia and Europe by as much as 50%.
Air freight rates have been elevated throughout the pandemic, driven by sustained demand and supply side issues and it does not seem likely they will fall substantially any time soon, with head haul and back haul rates trending upwards since the start of 2021.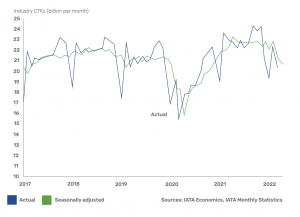 The issues that are driving rates up are not likely to improve in the short term.
The conflict in Ukraine is moving towards a drawn-out war of attrition, that may drag on, into 2023, the Chinese government shows no signs of relaxing its zero- COVID policy, which means further lockdowns are likely and sea freight disruption continues.
The possibility of a global recession in the second half of 2022 may stifle demand to a level that moves freight rates back towards pre-pandemic levels.
Mid-June, the Baltic Air Freight Index showed that transactional rates for general cargo had fallen 8.7% and IATA confirmed that freight revenue generated by carriers in 2022 would fall by 6.4%.
Whatever challenges your supply chain may face, the price and capacity agreements we have in place with our long-term partner air and ocean carriers mean that we continue to deliver resilient and reliable supply chain solutions.
Our purchase order management and supply chain tracking technology support the most demanding global trading regimes, providing transparency and control.
Andy Costara andyc@globalf.com will be pleased to explain further and demonstrate how our technology could support your supply chain.