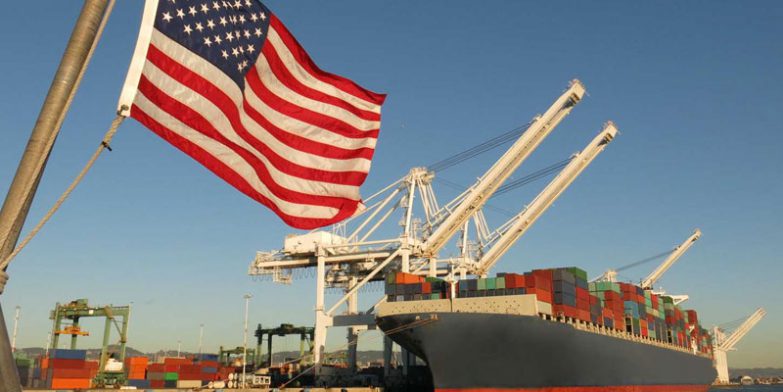 High import volumes and traffic being diverted from the West Coast is increasing pressure on operations at the Port of New York and New Jersey, forcing additional limits on truckers returning empty containers.
Demonstrating how squeezed the terminals are for space, seven container shipping lines — CMA CGM, Hapag-Lloyd, Ocean Network Express (ONE), Overseas Orient Container Line (OOCL), HMM, Yang Ming, and Wan Hai Lines — blocked the return of various types of empty containers on a number of days during week 16.
CMA CGM said the return lockouts affected a narrow segment of its containers and only occurred on one day. The carrier also said it is proactively waiving per-diem fees to offset costs for storing empty containers and adding berth and storage capacity to relieve the crunch.
Increasing volumes are hitting New York and New Jersey due to the shift of Asian freight away from the US West Coast ahead of labor negotiations between the ILWU and marine terminal employers and more is on the way, with East Coast bookings for almost all vessel services from Asia full through May.
Due to the import surge, the port's largest marine terminal, Maher, proposed the match-back rule for imports and empties. Another terminal, GCT New York in Staten Island, has periodically used a similar rule recently as it's also dealing with high import and empties volumes.
The proposed type of restriction limits driver efficiency, because forwarders use multiple ocean carriers at different terminals, so it needs to free an empty at one terminal to retrieve an import at another.
Another issue is that carriers can block empty returns at the last minute, and inconsistent vessel schedules also make it a challenge to match empties and imports, which means that if a trucker has no empty box to return to that terminal, the import container can then accrue per diem charges.
Different operating procedures from one terminal to the next add to the difficulties in returning empties. Several ocean carriers that call New York-New Jersey alternate arrivals between marine terminals that require truck appointments and those that don't.
If an appointment is not available at a terminal, then the haulier can't return an empty, but per diem can still be charged. Hapag-Lloyd was hit with a US government fine last week for charging per diem despite knowing that empty return appointments weren't available.
Even when empty returns are allowed, those terminals can easily be overwhelmed by the container backlogs that haulers have built up, resulting in long waiting times outside the terminal's gate.
Other times, per diem rules can be unclear. An ocean carrier may announce late in the day they can take returns at a particular site, but the question then becomes whether the earlier part of day is included in the free time allowed before per diem begins. There's no clarity from ocean carriers on waiving per diem.
The New York-New Jersey terminals have added an hour or two to operating hours and offered Saturday gates to help move imports and empties, but most believe that a true evening shift is what's needed to clear out imports and return empties.
Our team in the USA are available to discuss the latest situation and solutions for shipping to East Coast ports and the inland first/final movement of containers.
Adapted from the JOC article 'Asian freight surge puts pressure on NY-NJ empty box returns' by Michael Angell, which can be viewed using this link to the JOC.com web site