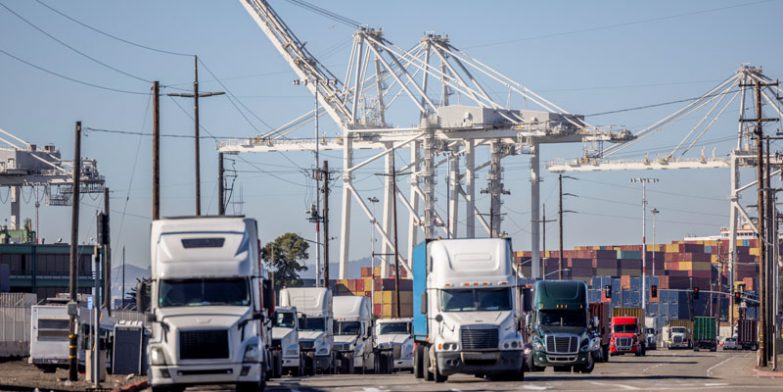 While shippers through the West Coast have been concerned by the lack of progress in the ILWU's negotiations with the Pacific Maritime Association, the Biden Administration has had to issue an executive order to prevent a railroad unions' strike, with containers piling up at Los Angeles and Long Beach and now the Port of Oakland is blocked by protesting truckers.
The Port of Oakland is urging truckers to end their protest over the implementation of the new state law, known as AB 5, which has blocked the port since Monday, effectively shutting down operations at the port's shipping terminals.
Oakland International Container Terminal (OICT), which handles about 70% of the port's containerized cargo, is completely shut and the number of vessels waiting to berth has increased 300% since the protest began.
Truckers, who initially planned to end the protest on Wednesday, have indicated that the blockade will continue indefinitely after California Gov. Gavin Newsom's administration insisted that it would not give in to demands to pause the implementation of the law, that protesters fear will make it harder for independent truckers to operate in the state.
The controversial law is aimed at toughening definitions of independent contractors in the "gig economy", to limit the casual use of independent contractors and largely classify them as employee drivers.
The International Brotherhood of Teamsters called AB 5 a "massive victory" for exploited truckers. Supporters say AB 5 is designed to protect workers by securing wages and benefits similar to those enjoyed by employees. In California, an estimated 70,000 independent owner-operator truckers supplement the employee-driver workforce.
Owner-operators say they like being independent, and the new law will require them to secure their own permits and insurance, making it more difficult and costly to stay in business. They fear that the law will force them to seek work as employees or leave the industry.
"Although it has been the subject of litigation, AB 5 was enacted in 2019, so no one should be caught by surprise by the law's requirements at this time," a spokesman for the Governor's office told the Wall Street Journal.
The Port of Oakland is the eighth-largest port in the country and typically over 2,000 trucks pass through the terminals each day, delivering exports and collecting containers from around the world.
Global Forwarding maintain traffic flow through east, west and gulf ports, so that we can react quickly to challenges, diverting in-transit cargo around possible issues, when appropriate.
We handle our own trucking at US ports and rail terminals, to minimise container dwell time and reduce our shippers exposure to potential disruption from port and terminal issues.
We provide real-time visibility of events and milestones, across all international freight shipments. This free added-value service means that our customers can see what's happening with their consignments in real-time, to simplify decision making, for resilient and flexible supply chains.