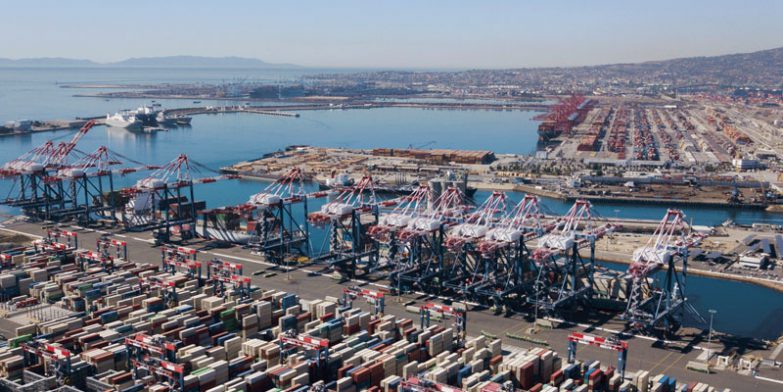 Previous attempts by the International Longshore and Warehouse Union (ILWU) to negotiate new contacts for their members have often been protracted and acrimonious, with the impact of 2015's four-month labour dispute being felt for over a year and US importers are increasingly concerned over the looming 2020 contract negotiations at west coast ports 
The current labour contract between the ILWU, which represents 14,000 port workers in California, Oregon and Washington State, and the PMA, on behalf of shipping lines and terminal operators at 29 west coast ports, is due to expire at the end of June and with supply chain disruptions already expected to continue through 2022, there are real fears that contract negotiations – and particularly the threat of industrial action – could lead to additional pressures.
31st March – US press reports that ILWU negotiations will commence on the 12th May
The ports of Los Angeles and Long Beach, which together handle more than 45% of US imports from Asia, began to experience serious vessel backlogs and terminal congestion issues last summer – with queues of ships approaching 100 at their worst – and fears are growing that any delay in contract negotiations could massively increase disruption for importers that rely on the West Coast ports and force them to consider other gateways, especially with the June contract deadline falling before the peak shipping season.
Even the perceived risk of a disruption should make the prudent shipper reevaluate their use of West Coast ports and consider appropriate contingencies for their supply chain.
The simplest way to avoid getting cargo trapped at West Coast ports this summer is to  order early and land goods ahead of June. 
There are alternative access ports you can consider diverting to, in Canada, the Gulf and East coasts. But, with so much cargo already diverted from Los Angeles and Long Beach, there are questions about how much additional capacity the most popular ports actually have.
We would ask that customers shipping to, or importing through, the West Coast speak to us at the earliest opportunity, so that we can review their situation and prepare contingency plans to protect them.
Given time, we can spread shipments around multiple, carefully selected, Canadian, Gulf and East coast ports and – if the US situation is dire – consider staging ports just outside the country including Manzanillo, Panama or the Caribbean-Kingston.
On an optimistic note, highly respected industry commentators expect an on-time agreement, because there will be tremendous pressure on the union not to make economic conditions worse and the carriers have the cash to live with an expensive deal.
They predict dramatic statements by both parties about a stalemate and the potential for gridlock, but that will be purely tactical posturing and not the reality of their actual positions.
Let's hope they are right!