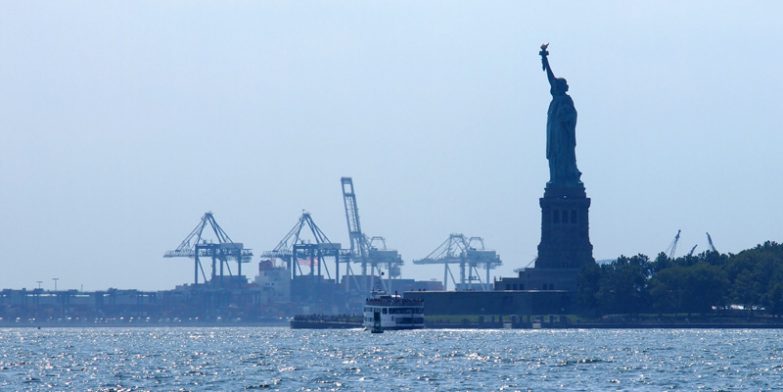 Full ships, stabilising spot rates and a bullish charter market are giving container shipping lines cause for optimism, while air cargo demand has risen above pre-pandemic levels and hauliers seem reluctant to pass on increased costs.
OCEAN
A definite end to rock-bottom freight rates could be in sight, as carriers take advantage of tight capacity management and full vessels to launch rate restoration programmes across their networks in the next few weeks.
The ocean carriers are preparing to unleash a barrage of GRIs this spring, in order to shore-up freight rates ahead of the peak season, and to mitigate the weak demand, they are planning to blank up to 50 headhaul sailings from Asia to the US east and west coasts this month. It remains to be seen whether they will look to announce similar GRIs on other routes, including the key Asia-North Europe trade-lane.
Vessel space is lacking at the moment, with many full for weeks out and roll pools, which suggests that carriers have mostly succeeded in matching supply with demand on the transpacific and Asia-Europe lanes.
And spot rates are seeing a slight uptick as a consequence.
Ocean carriers will continue to adjust and tighten their capacity to ensure full voyages are maintained and will continue with this mindset until market demand changes.
Meanwhile, a big spike in oil prices, following the OPEC+ coalition of oil-producing countries' surprise decision to cut output, could result in a fresh raft of bunker surcharges for shippers
AIR
The latest industry data offers a glimmer of hope for the international air cargo industry, with demand and capacity improving in February and March.
The shifting volume and capacity balance is reflected in the global dynamic load factor, which in March was 60%, 6% short of the same month a year earlier, but up 6% on January's seasonal low.
There was also a sense of a return to normality in March and the previous month's rate fall is attributed to shrinking cargo volumes and recovering capacity. Global cargo volumes have been falling for the past 13 consecutive months but showed some sign of relief in March, as volumes registered their smallest drop, of 3% year on year, the lowest monthly decline in over a year.
The re-opening of the Asia Pacific markets is likely to support a faster global economic recovery, with belly capacity growing in line with passenger travel increases.
Most airlines have available capacity at hand, absorbing low yields amidst lean volumes and no bottlenecks are expected to impinge capacity in the coming months, although ongoing labour disputes may have some limited operational impact.
Global capacity is up 14% on 2022, with belly capacity up 20% growth as passenger travel recovery remains significant on outbound Asia, Europe and North American lanes, with additional PAX capacity on long-haul lanes.
ROAD
Although the global economy continues to be severely impacted by challenging operating conditions, a cautiously positive trend is consolidating at the end of the quarter, among economists and road transport operators.
The latest data from the TEG Road Transport Price Index is tracking a small fall in haulage prices of 3% lower than the start of the year and were at their lowest level since March 2021.
The TEG data suggests that despite cost and workforce pressures, hauliers are holding back some increases, but with the Windsor Framework potentially prefacing a better working relationship between the UK and EU, they will be hoping that an economic upturn will trigger increased volumes and better margins in the short term.
After an excess capacity was recorded for the first time in February (46:54), the TIMOCOM Transport Barometer recorded a slight decline in available freight capacity again in March with a ratio of 49% freight share to 51% available cargo space.
This development is most likely due to the seasonal nature of the road transport market, as the weeks around Easter are usually characterised by an increase in volumes and suggests a minimal capacity bottleneck this month.
Whatever challenges your supply chain may face, our commercial vehicle fleet and the price and capacity agreements we have in place with our long-term partner air and ocean carriers mean that we continue to deliver resilient and reliable supply chain solutions.
Our purchase order management and supply chain tracking technology support the most demanding global trading regimes, providing transparency and control. 
EMAIL Andy Costara to learn more and see how our technology can support your supply chain.