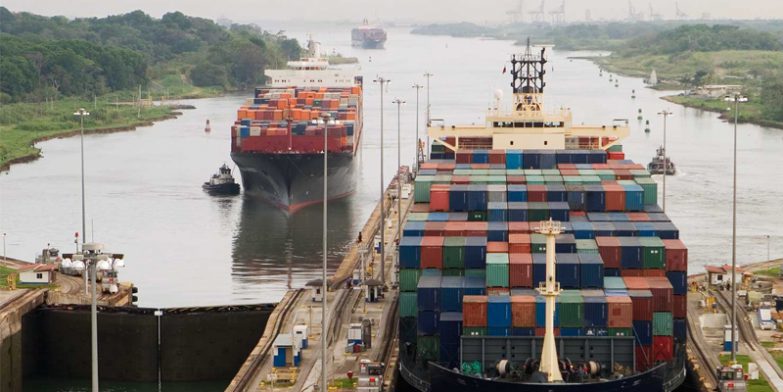 While ongoing vessel and draft restrictions on the Panama Canal have not impacted shippers yet, we are monitoring the increasing queue of container ships waiting to transit the canal closely, because extended delays for goods coming into the US for the coming fall and winter seasons, could impact capacity, schedules and prices. 
The backlog of ships trying to enter the Panama Canal is growing, with current estimates putting the number at over 200 vessels, which means millions of dollars worth of goods, are delayed, with some waiting weeks to traverse the canal.
Vessel-tracking data highlights the extent of the issue with hundreds of ships waiting near entrances to the canal on the Pacific and Atlantic oceans, with some waiting more than 20 days.
Despite the wait, delays have not translated into late arrivals at US East and Gulf coast ports so far. Vessel capacity utilization is currently low, which means there has been capacity to absorb, and it will probably be a few weeks before any delays are seen at the ports.
The number of daily transits through the canal has been capped at 32, compared with the 34 to 42 it can handle at peak capacity, in a bid to conserve water and some carriers are re-routing to avoid the backlog.
The canal uses three times as much water as New York City on a daily basis and needs rainfall to replace it, but Panama is going through its driest spell in more than a century.
The Panama Canal Authority supplies water to around half the country's population of 4.5 million and restrictions for the number of vessels passing through the canal has been extended until the 2nd September, with warnings that restrictions may remain in place until the end of the year, if the low rainfall continues into winter.
Containerships are the canal's biggest users and are usually given preferential status, which means most have avoided the worst of the disruption, but neo-Panamax ships are waiting up to 18 days for northward transits, with similar delays for southbound transits.  
And many of those caught up in the chaos are having to pay several times the average tolls, with Maersk recently paying $900,000 on top of the normal toll fee for individual vessels to cross.
Ordinarily, neo-Panamax vessels move through the canal at an average 50 feet of draft but this has now been reduced to 44 feet to cope with the drought conditions, which means large container ships have to offload containers, to make the vessel lighter, in order to match the lower water depth.
In view of the draft restriction, some carriers have reduced maximum payload for a 40-foot container to 15 metric tons from the usual 20 to 22 metric tons, with 20-foot container payloads reduced to seven metric tons compared to 15 metric tons previously.
However, other carriers are still accepting heavyweight cargo and carriers have not been too aggressive in asking for Panama Canal surcharges, though there is a suspicion that many have already rolled them into the ocean freight rate.
If you have any concerns about the issues raised in this article, we can review your situation and explain your options, including alternative ports and routes.
Global Forwarding USA has a dedicated import and export department, that handle ocean, air and customs brokerage – including all related customs departments – with domestic transport for container movements, LTL and FTL.
EMAIL Adam Davies, Global Forwarding USA, Vice President.